Thrice The Brinded Cat
Deldo Ranges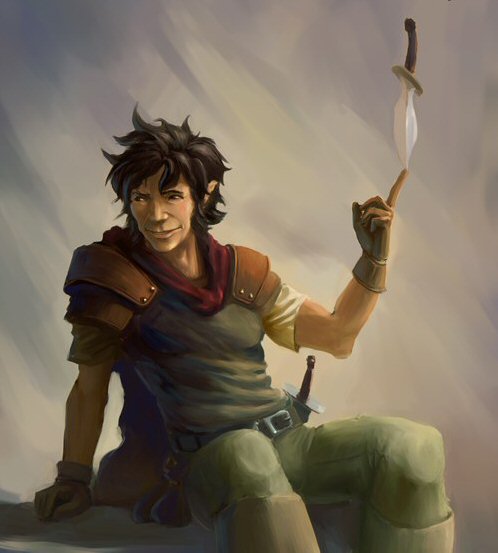 This bamboo longhouse is the home of Cauldron's premier merchandiser of ranged combat supply. Felmur Deldo, the diminutive, slender Halfling with a dark and ruddy complexion and the energy of a pack of lemurs, is often seen bouncing from display to display within the confines of his shop. Many in Cauldron theorize his unworldly exuberance stems from the unfortunate union of two hyperactive Halfling parents, but those who know him a little better realize the source is more likely his unwavering addiction to the local café beans.
Felmur stocks all types of ranged weaponry in his shop, including various throwing blades, slings, javelins, atlatl's, shurikens, bolts and arrows. You will not find any bows, whatsoever, for sale at Deldo's. The reason is because Felmur refuses to compete with his spouse's business just down the street, and Willow wouldn't take kindly to any competition, especially from her husband.
Felmur has set up a row of three round straw targets at the back of the store, complete with red and white striped bullseyes. Customers are encouraged to try out the wares before buying. Almost all the merchandise in the store bears the mark of the Lathenmire smithy.
ITEM

PRICE

Star of Valor
Discount 20%
Blades
Price
Discount
846Shurikens (S)
3 sp
2 sp 4 cp
568 Shurikens (M)
3 sp
2 sp 4 cp
157 Throwing daggers (S)
2 gp 5 sp
2 gp
134 Throwing daggers (M)
2 gp 5 sp
2 gp
24 Throwing daggers (L)
5 gp
4 gp
4 Throwing irons (S)
9 gp
7 gp 2 sp
13 Throwing irons (M)
9 gp
7 gp 2 sp
8 Throwing axes (S)
9 gp
7 gp 2 sp
26 Throwing axes (M)
9 gp
7 gp 2 sp
4 Throwing axes (L)
18 gp
14 gp 4 sp
12 Chakram (M)
17 gp
13 gp 6 sp
Spears
Price
Discount
145 Dart (S)
5 sp
4 sp
87 Dart (M)
5 sp
4 sp
21 Dart (L)
1 gp
8 sp
340 Fukimi-Bari (M)
1 gp 5 sp
1 gp 2 sp
37 Shortspears (S)
1 gp
8 sp
37 Shortspears (M)
1 gp
8 sp
37 Shortspears (L)
2 gp
1 gp 6 sp
37 Spears (S)
2 gp
1 gp 6 sp
37 Spears (M)
2 gp
1 gp 6 sp
44 Javelins (M)
1 gp 5 sp
1 gp 2 sp
37 Javelins (L)
3 gp
2 gp 4 sp
14 Tridents (T)
8 gp
6 gp 4 sp
6 Trident (S)
17 gp
13 gp 6 sp
1 Harpoon (M)
17 gp
13 gp 6 sp
1 Harpoon (L)
35 gp
28 gp
Blunt
Price
Discount
15 Slings (T)
3 cp
2 cp
23 Slings (S)
6 cp
5 cp
27 Slings (M)
6 cp
5 cp
13 Throwing clubs (S)
1 sp
8 cp
31 Throwing clubs (M)
1 sp
8 cp
4 Throwing clubs (L)
2 sp
1 sp 6 cp
8 Throwing hammers (S)
1 gp 2 sp
9 sp 6 cp
12 Throwing hammers (M)
1 gp 2 sp
9 sp 6 cp
2 Throwing hammers (L)
2 gp 4 sp
1 gp 9 sp
221 Halfling Skiprocks (S)
2 gp
1 gp 6 sp
5 Bolas (M)
6 gp
4 gp 8 sp
11 Two-Ball bolas (M)
7 gp
5 gp 6 sp
16 Orc shotputs (M)
12 gp
9 gp 6 sp
5 Nets (M)
24 gp
19 gp 2 sp
2 Nets (L)
48 gp
38 gp 4 sp
4 Gnome calculi (S)
57 gp
45 gp 6 sp
1 Hammer of the Farthrow (Illuminating) (M)*
2,451 gp
1,960 gp
Ammo
Price
Discount
(Loads) Sling bullets (10) (S,M&L)
1 sp
8 cp
(Loads) Arrows (20) (S,M&L)
1 gp 2 sp
9 sp
(Loads) Crossbow bolts (10) (S,M&L)
1 gp 2 sp
9 sp
25 Signal Arrows – macaw (M)
7 sp
5 sp 6 cp
33 Blunt arrows (M)
7 sp
5 sp 6 cp
15 Thundering arrows (M)
2 gp 5 sp
2 gp
45 Tumbling bolts (M)
7 gp
5 gp 6 sp
23 Flight arrows (M)
10 gp
8 gp
17 Alchemical arrows (M)
95 gp
76 gp
* indicates magic detected